Anxiety and Panic Attacks.
Anxiety is a normal human response to stressful or uncertain situations. However, anxious thoughts and feelings can be some of life's most terrifying experiences and can be seen to come out of the blue and be almost unbearable to contain. I have helped clients that present with overwhelming feelings of anxiety, where they find themselves withdrawing from social and work situations, their anxiety working hard to convince them that they are incapable and inadequate.
From my experience anxiety and panic attacks can be the cause of early experiences and traumas that have not yet been uncovered and rationalised, (unremembered yet unforgettable). These experiences can be held in the body and in later life they can cause us great distress. Symptoms such as shortness of breath, racing heartbeat, trembling and dizziness often accompany panic attacks. Trying to understand the reasons why you feel anxious can be important in helping you explore and gain understanding of any underlying causes.
Counselling can help with anxiety by making it manageable, enabling life to go back to some kind of normality. Regaining control over anxiety can greatly increase self-esteem and quality of life. I would work with you to help you understand the problem itself, recognising your triggers, and developing tools to challenge the anxious thoughts and feelings.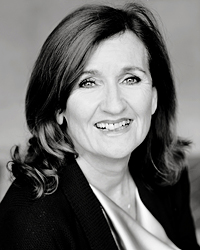 Annette Maylam
BA (Hons) MBACP (Accred) Counsellor & Psychotherapist

Symptoms of anxiety
feelings of irritability
dizziness
nervousness
tension
feelings of restlessness
difficulty concentrating
feelings of dread
impatience
Physical symptoms of anxiety include:
heart palpitations
sweating
shaking
tightness in the chest
difficulty breathing
dizziness
Characteristic of most of these symptoms is an overproduction of adrenalin. The symptoms when experienced unfortunately promote further production of adrenalin, thus creating a vicious cycle. Anxiety can therefore become a long-term issue which significantly affects our lifestyle and relationships.
Your First Appointment
Individual therapy - £65 | EMDR Therapy -£70 | Couples Therapy - £80
Before making the first appointment I recommend that we have a brief telephone conversation to discuss what you need help with. Following this we will meet for an assessment appointment where I will gather further information about what you have been experiencing and relevant information about your life. Depending on the issues, we can agree how many sessions you might need. Skype sessions are also available but only after initial face-to-face meetings.
If you would like to arrange an appointment for an initial meeting please get in touch by calling or sending an email:
If I cannot answer your call it is safe to leave messages and if you wish me to call you back please leave your name, phone number and a convenient time. Similarly, I will always respond to emails as soon as I can.